The Last Wall
An Urban Revolution of Migrant Workers' Domesticity



Yalun Li
Syracuse B.Arch Thesis 2018
In collaboration with Pengyu Chen
Advisor: Francisco Sanin




On November 18th, a fire in Beijing's suburb killed 19 migrant workers and their children, followed with a massive eviction of the floating population, which the government claimed to be "low-end."

In The Chinese Dream, Mars commented on China's desperate needs to develop cities in order to keep its economic growth as the economic legend achieved by export cheap Chinese production has come to a halt. As the capital city, Beijing's change in the past 30 years represents an urban transformation of Chinese cities. Because of rapid capital gains and influx of western culture, the city has gone from a city of industrial production to a city that is an epicenter of consumption. Middle class strengthened by capital gains and influenced by western culture has become urban consumers- the dominating social group in urban context. At the same time, massive developments attracted large amount of rural population to the city as production labor, forming a phenomenon called "北漂", Beijing vagabond. Demographic controls (Hukou), political and economic discriminations have marginalized their existence.



Consumerization process has created an urban phenomenon called "摊大饼(pancake)," an unstoppable and chaotic urban expansion based on real estate development. The construction of Ring Roads, circular highways surrounding Beijing urban zones, are the most telling example. Despite the physical growth of the urban fabric to the 7th ring, the 5th ring defines a psychological and administrative division of the city proper and the "suburb". While within the 5th rings are westernized real estate development of residential towers and shopping malls, good social infrastructure (health care, education system, crime controls), many areas outside of the 5th ring are autonomous settlements of the migrant workers with poor living conditions, limited resources. Thus, the 5th ring along with government policies of Hukou highlight an invisible boundary of social groups. Recently, a series of political campaigns of Beijing's 12th 5-year plan has rendered the migrant workers as an unnecessary burden of the city's image.
Thus, the project is a critique of the acute social tensions, and the current extreme methods (eviction and destruction) taken by the government in response to such tension, and a design research aims to test new possibilities of collective living and working among migrant workers and explore the social and economic symbiotic relationship of two distinct social groups and their urban territories in Beijing.

The project at a city scale aims to reprogram empty lots along the 5th ring with migrant workers housing and agricultural and manufacture production linked by a light rail. The housing unit for the evicted migrants are based on close studies of their autonomous and dynamic social structure. These units assemble into a bar building, which its polemic form read as a defensive wall against city's expansion. But through the arrangement of public and communal programs, the building strives to create spaces of negotiations between middle class and migrant workers in these urban territories.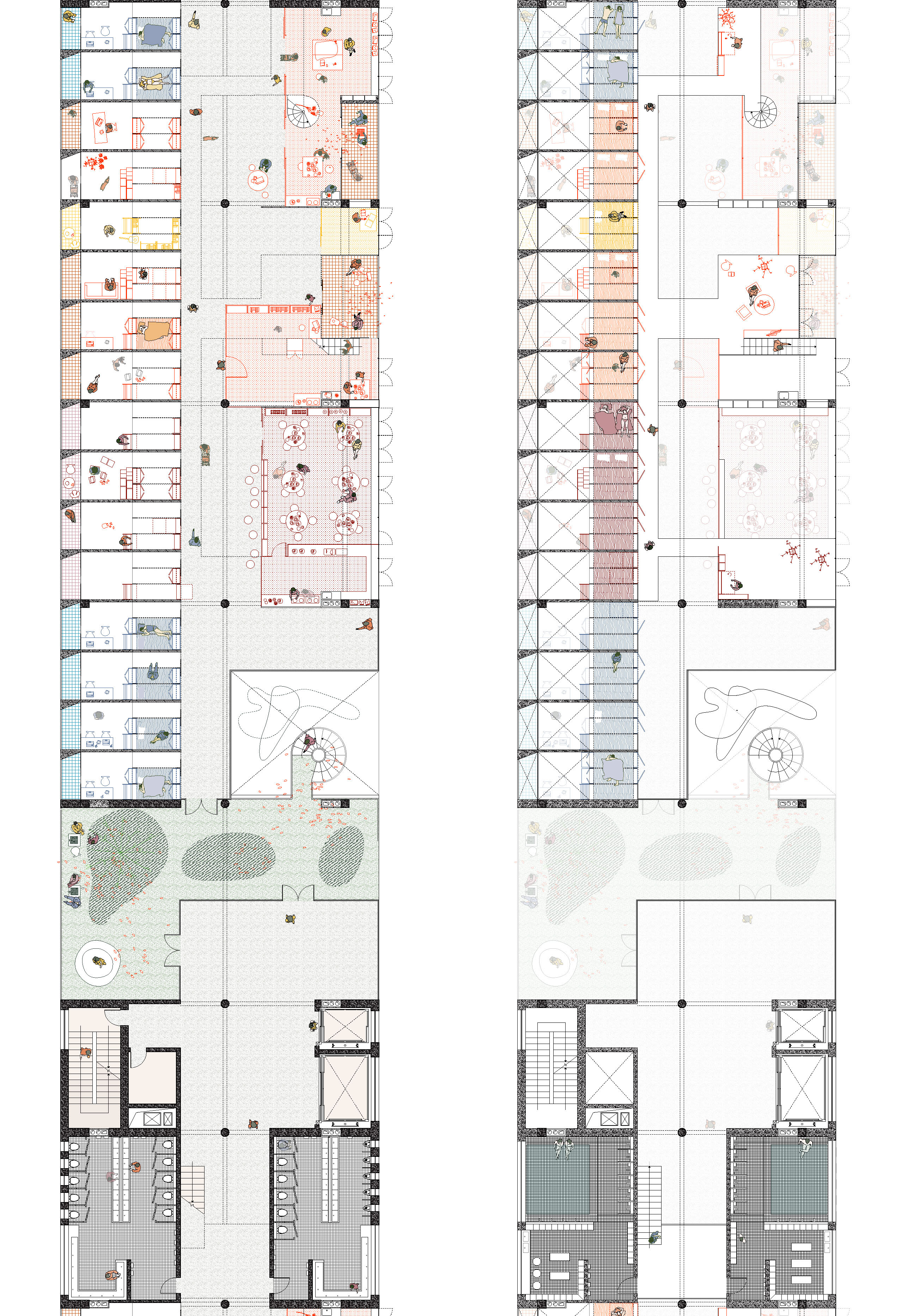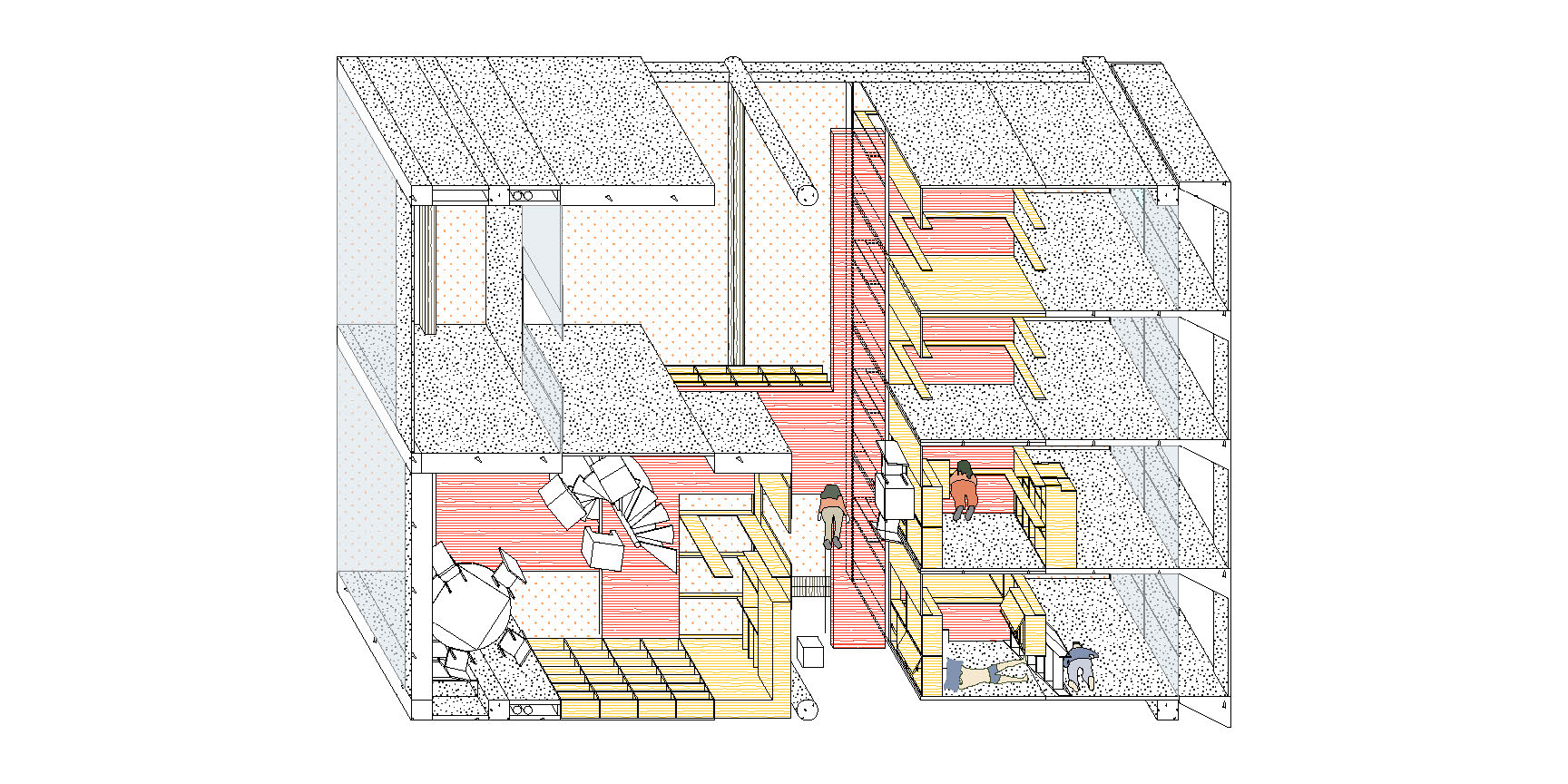 ---